Lake Meditation Series
Take a break from your busy life and join Jodi for a morning of guided meditation in a beautiful setting. You will leave with a feeling peace and calm and have the tools to start your own meditation practice. All are welcome (mostly attended by women) and no meditation experience necessary. Just bring a towel and wear comfortable clothing.  Lake located near Chappaqua, and there is no sun on the lake at that time. When you sign up you will get more information including address and where to park.
$129.00 for Unlimited lake meditation classes (6 in all)
$99.00 Three lake meditation classes (best to do one a month if possible) If you don't make 3, you may come to group in fall as a make up.

$39.99 For one session (Drop down menu says $45 but will charge you 39.99 in cart) Sorry.
Dates for Lake Meditation:
Monday and Friday mornings from 10:30-11:30.
June 3rd          July 8th          Aug 5th
June 7th          July 12th         Aug 9th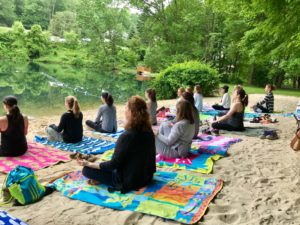 Register for Lake Meditations: