MINDFUL MOMS: A GYM MEMBERSHIP FOR YOUR MIND: FACEBOOK AND IN-PERSON COMMUNITY.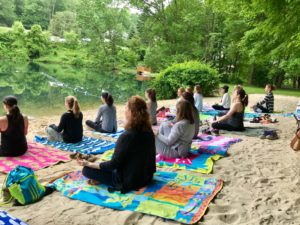 Keep your mind in shape!
We constantly worry about our bodies being fit, but what about our minds?
Our overactive minds drive us crazy with negative fantasies about the future, never-ending to do lists, and the constant feeling that we're not doing enough. It seems we are always struggling to keep our head above water while simultaneously trying to eat 1000 calories or less. It's time to say: ENOUGH! This group will help you keep your shit together in this crazy world we live in.
We need to learn to manage and exercise our minds, much like we do our bodies.
Keep your mind in shape by getting support, inspiration, and accountability from an incredible community of like-minded women. This group will bring more joy, peace, fulfillment, health and sanity to your life. Jodi Baretz, therapist, health coach and author of "Mindful Is the New Skinny," will lead the group to less stress and more health and happiness by inviting you to change how you view your challenges, introducing you to another perspective and a new way of thinking and being. She will be discussing topics from her book each month, mindfulness bootcamp group and much more. This information and techniques have changed her life and the lives of many clients and she can't wait to share them with you!

Topics include: Self-care, wellness, mindful and healthy eating, stress reduction, mindfulness, meditation, parenting and relationships. Basically, the dramas of everyday life!
You can participate if you are local to Westchester or from anywhere!
**If you are not local, you can still benefit from the valuable content and support in the group.
Benefits:

 
Facebook group: 
Support from Jodi and a growing like-minded community.

Valuable content and from Jodi Baretz' book and bootcamp.
Access to meditations, resources, recipes and more.
A sacred safe place to share and inspire, get real and personal (if you feel comfortable and inclined- not a requirement).

In Person meet ups for locals:
Monthly Monday mornings or evenings meet up group at The Center for Health and Healing.
Includes Summer Lake Meditation Group.
Planned events: Mom's night out, retreats and more.
In person meetings are held the first Monday of the month from
10:30 am- 11:45 pm OR 7:00pm - 8:15pm
First half hour meet and greet, then discussion and meditation will be begin.
All dates will be posted in Facebook group.

Free intro session   September  17th     10:30am  and 7:00pm .
October           1st
November        5th
December       10th (due to Hannukah on the third)
January            7th
February          4th
March              4th
April                 1st
May                  6th  
June, July, August at Lake
Location: The Center for Health and Healing, 4 Smith Avenue, 2nd floor, Mt. Kisco, NY
Be a part of a like minded growing supportive community! It's a truly special place.
Life is too hard to go it alone.
For 29.99 per month, you will be a part of my Facebook and in person amazing community of like-minded women! You can cancel at anytime.